Even before COVID-19 shook the world and forever transformed customer behavior and the digital landscape, Customer Data Platforms were generating quite a lot of interest.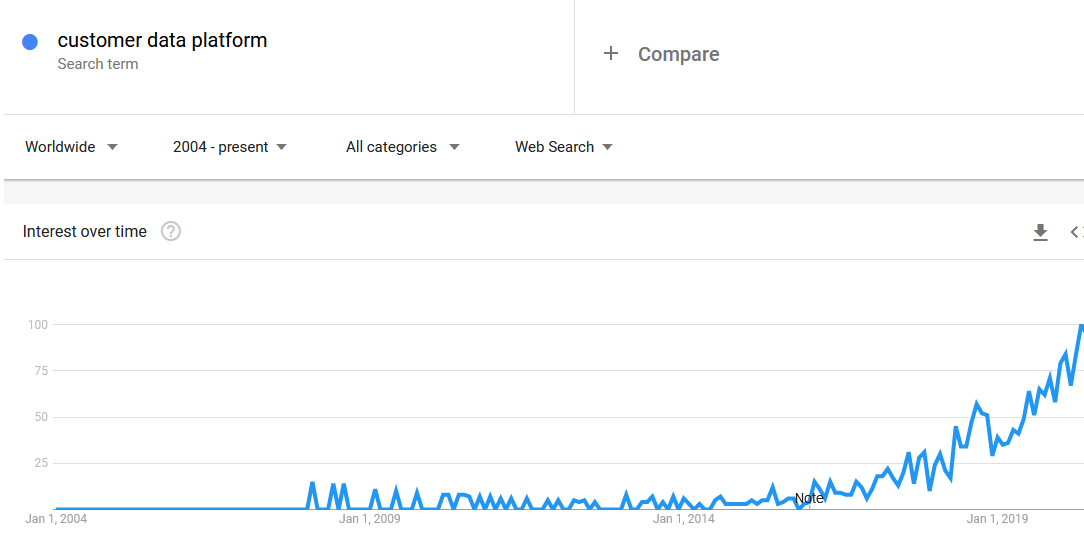 *Google Trends snapshot of the surge in search levels for the term 'Customer Data Platform'
This is hardly surprising, considering that clean, usable data is vital for all functions within a modern enterprise – marketing teams use it for analytics, and personalized promotions, sales teams use prospect data for accelerating deal closures, finance, and operations leverage data to understand vendor payment patterns, etc.  Research by MarketsandMarkets shows that the global CDP market is expected to grow to USD 10.3 billion by 2025.
What is CDP?
Customer Data Platforms craft unified customer profiles by integrating data from a variety of first, second, and third-party online and offline sources. This can include your CRM and DMP, POS systems, web forms, mobile apps, email, and social media, website and e-commerce behavioral data, etc. A CDP typically contains three layers: Data Capture (360 Degree View), Decisioning Engine (Smart Segmentation/Personalization) & Delivery (Omnichannel Engagement). Some CDPs offer only Data Capture (usually referred to as Standalone CDP) while others have extended capabilities like campaign execution.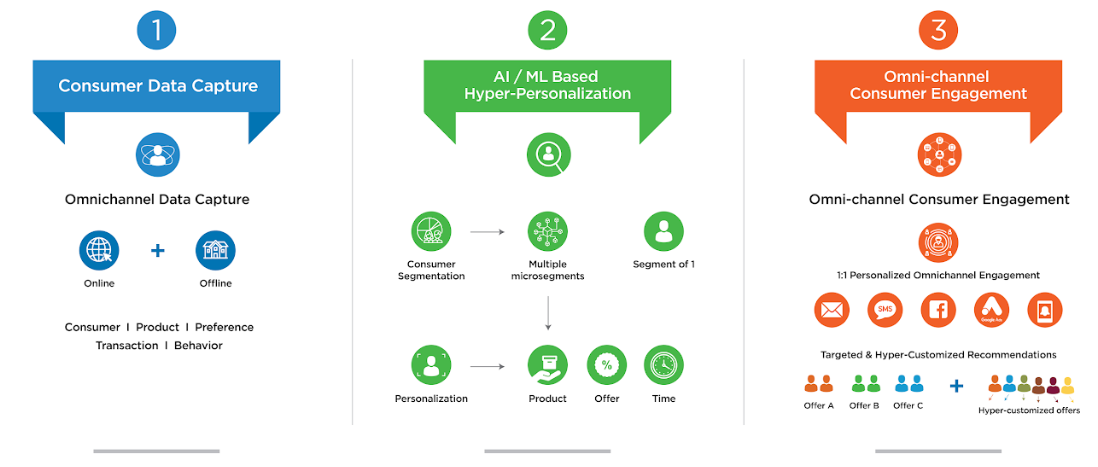 As the name implies, the data capture layer in a CDP collects data from multiple sources and resolves it under a Single ID. This can include behavioral, demographic,  website browsing, campaign data, CRM Data, order data, POS data, ecommerce data, product data, offline data, and any other data related to a customer. Once set up, the platform will be able to recognize existing customers across multiple brand touchpoints (app, website, store, etc.) and enrich the profile based on the new interaction. The biggest advantage of a CDP is that the entire process of data collection, profile merging, and enrichment is done in real-time which elevates the value that can be derived from it.
Once the data is collected, the decisioning layer in a CDP can leverage AI/ML-based algorithms to create extremely precise and nuanced micro-segments based on multiple attributes like user behavior, demographics, location, average basket value, product preferences, purchase history, etc. For instance, you may want to target your most engaged customers within a 20-mile radius of an event. Or millennial customers near a particular store location, who are interested in red jackets, and visited your website in the past 2 months, and have an NPS score of +75. As you can imagine, the possibilities are nearly endless, and this makes CDPs a key tool in your personalization and customer engagement strategy.
The Delivery layer in a CDP essentially finds the ideal distribution channel and content for a specific segment or a user. This enables retailers to deliver hyper-personalized content across multiple channels like websites, mobile, social media, search advertising, and email marketing. For instance, the CDP can identify segments and deliver campaigns using dynamic advertising content for Facebook Dynamic Product Ads, Google Shopping, and Google Smart Display Campaigns. The campaign and content delivery module in a CDP work on a real-time, positive feedback loop and optimizes the channel mix for a specific user/segment based on several factors like delivery rates, conversion rates, engagement levels, etc. Over a period of time, the system can automatically pick the best channel and content to communicate with a specific user or a segment.
CDP Benefits from a Retail Perspective

Most brand marketers are adept at leveraging marketing automation tools for email marketing, SMS or social media campaigns etc. CDPs can supercharge a brand's entire marketing ecosystem by empowering marketers with clean, enriched customer insights that translate to personalized, contextual, and high-conversion campaigns and customer experiences. Here are the key benefits that a CDP offers to retailers.  
Connect Disparate, Siloed Data
Most retailers currently store their user data in isolated silos. For instance, a customer's demographic data will be stored in the CRM, while behavioral and online data will be stored within marketing automation platforms, and transactional and purchase data will be stored within a different silo. This disparate data makes it difficult for brands to track a user's journey and engagement levels. A CDP solves by unifying data from multiple silos into a centralized location that can be easily accessed by multiple teams. The data is then enriched on a real-time basis based on inputs from third-party data platforms like DMPs. 
Get a Deeper Understanding of Customers
The Single View of Customer enabled by a CDP allows brands to get a complete overview of a customer's journey. For instance, when did the customer first interact with your brand and on which channel, what are the products purchased so far, what are the store visit patterns for this customer, what are his/her style preferences etc. These deeper customer insights help brands to craft highly contextual and personalized brand interactions that lead to long term loyalty and higher customer satisfaction.
Deliver Hyperpersonalized Customer Experiences
A CDP with an AI-powered decisioning engine can enable retailers to hyperpersonalized experiences at scale by creating micro-segments based on multiple attributes like shopper persona, time, location, product preferences, channel preferences etc.  This 1:1 level personalization contributes to higher engagement, conversion, and overall customer satisfaction.
Agility and future-readiness
CDPs are, by their very nature,  connector systems and can quickly integrate with existing systems like CRMs, DMPs, etc, and easily connect to newer systems you might be adding to your martech stack. As the pace of customer behavior and technology adoption (IoT, AR, VR etc.) quickens, a CDP will make it easier to integrate these newer technologies.
Cross-channel attribution
Enterprise brands typically run marketing campaigns across multiple digital channels which makes it difficult to track attribution. A CDP creates a flexible reporting and unified attribution framework, which will ready the organization for a more comprehensive view of marketing activities and attribution across channels.
Loyalty Program Use-cases for CDP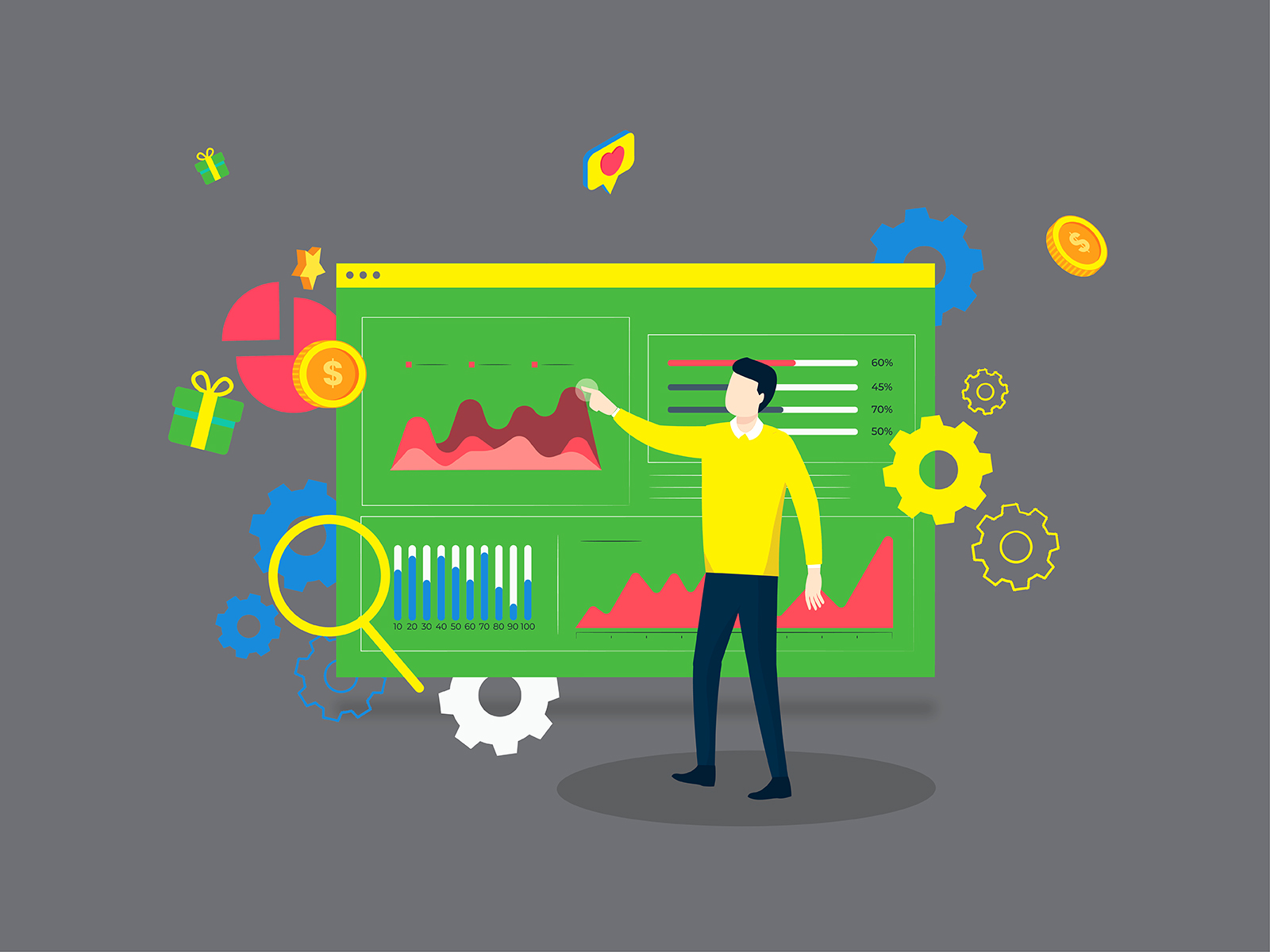 Though they followed independent evolutionary cycles, CDPs and Loyalty Platforms are increasingly becoming interconnected to uniquely identify a user, track transactions and customer interactions across channels and devices, and personalize rewards and incentives.
The close integration and synergistic relationship also explain some key mergers and acquisitions in this space. Also, a big part of loyalty program evolution and advancement is tied to data and customer insights. This is where the relationship between CDPs and Loyalty Programs come to the fore. 
Here are some of the advantages of an integrated CDP-loyalty system.
Create Seamless Personalization Loops:  Loyalty programs offer tangible benefits to brands in terms of profits and revenue growth. However, their biggest advantage for retailers is a deeper understanding of customer behavior. Loyalty programs encourage customers to share more data which is then used to further personalize their experiences. A CDP-driven loyalty program helps brands to drive this feedback loop at scale across complex use-cases.  
Improve Cost & Operational Efficiency:  From a cost perspective, it makes business sense to have a unified platform for collecting data, segmenting audiences, and managing your campaign/rewards. Operationally, an integrated platform reduces data lag (between the collection, segmentation, and execution), and allows you to adapt faster to customer behavior, most often in real-time. This can be a significant game-changer for enterprise brands that handle millions of data sets. 
Future Proof Your Business: As new and emerging technologies like Augmented Reality (AR), Virtual Reality (VR), and Internet of Things (IoT)  contribute more data, a CDP-driven loyalty platform helps you craft delightful customer experiences that drive profitable behavior. For instance, the ability to quickly identify a customer cohort that is likely to be interested in these tech and incentivize them with a personalized offer to drive adoption. 
Develop a Truly 360 Degree View of the Customer: Loyalty programs offer retailers a massive amount of transactional, behavioral, and demographic data. A CDP-layered loyalty system can quickly sync and unify this data with other non-loyalty-generated sources like POS, email marketing, etc to create a far richer customer profile quickly and easily.
Campaign ROI & Engagement Optimization: A CDP-driven loyalty program helps marketers to analyze the effectiveness of a campaign, promotion, or incentive in real-time. This can help in fixing issues around high acquisition costs or content ineffectiveness instantly. In the long run, the platform helps marketers to make predictive and prescriptive actions to ensure the success of a campaign or a promotion.  
Data Quality Management and Predictive Capabilities of CDPs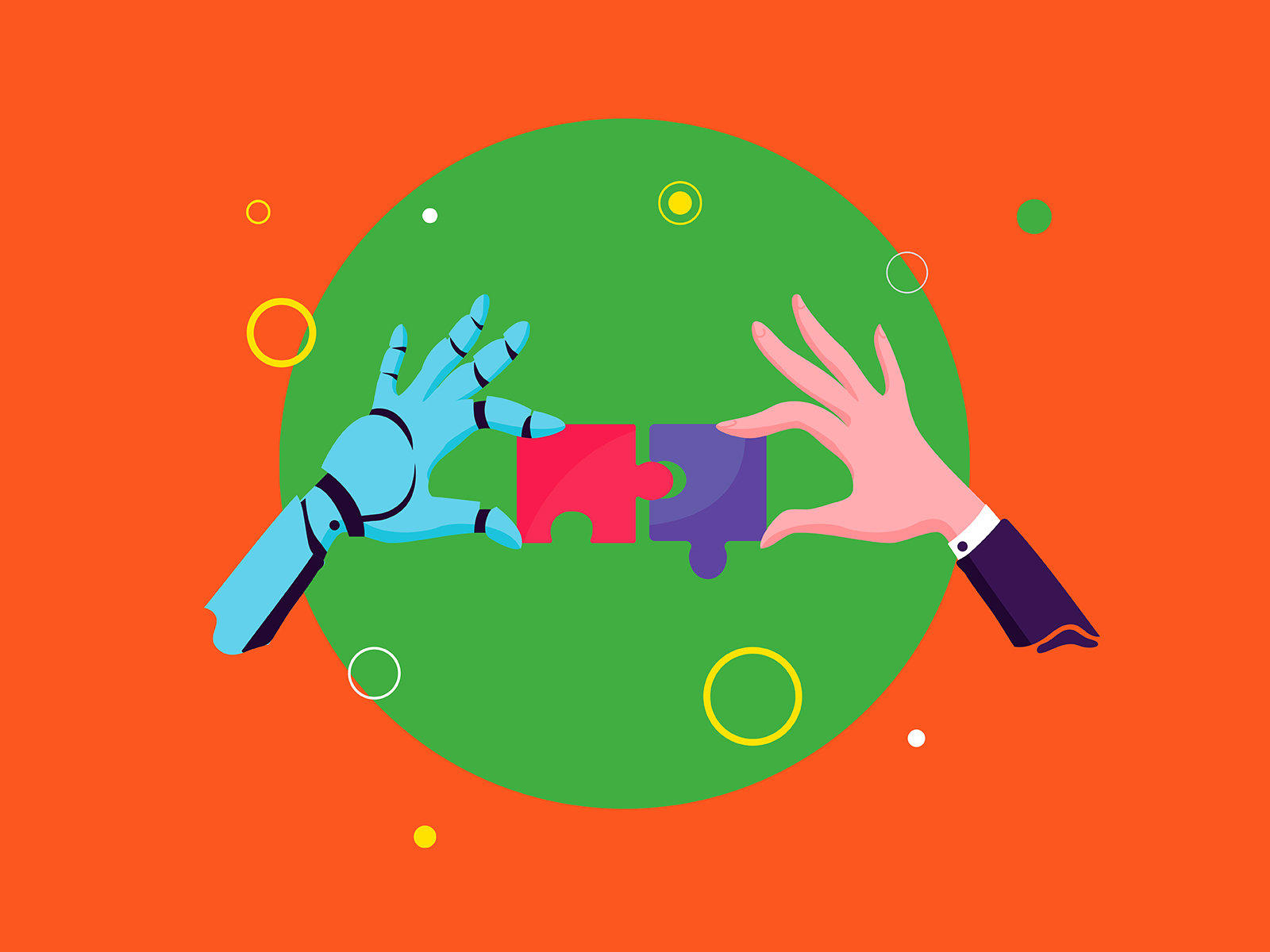 CDPs can ingest unstructured, semi-structured, and structured data without any data loss and can also dedupe, transform, and enrich this data for easy analysis. CDPs achieve this through a combination of webhooks, standard connectors, and API integrations. 
Here's a typical 3 stage of Data Quality Management employed by CDPs.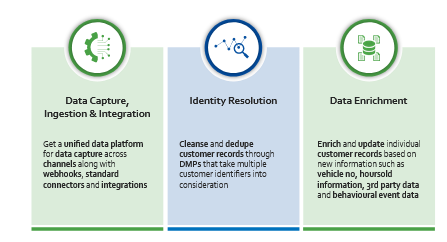 Dyson collects, unifies, and enriches customer data from multiple channels like POS, Ecommerce,  WeChat, etc. using Capillary CDP. The platform automatically matches identifiers across different channels to merge profiles and create a singular view.
Dyson leverages this Single View of Customer to enhance and optimize its lead management, member/product registration, product recommendation, and overall customer engagement strategy.

Advanced systems like Capillary CDP even offer an Advanced Analytics Dashboard that allows data scientists to execute complex, predictive data science algorithms and run queries using multiple languages such as SQL, Scala & more.
Example of Propensity Modelling Use-cases in Capillary CDP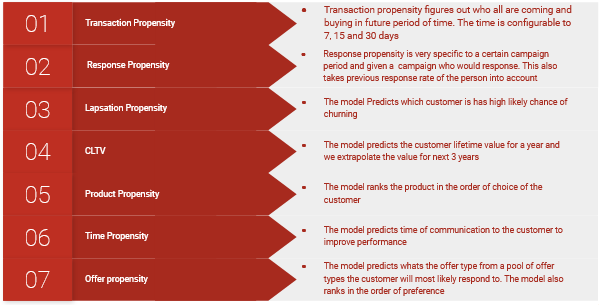 In a nutshell, a CDP is defined as "a platform that creates a persistent, unified customer database that is accessible to other systems." For marketers, this unified customer data gives a Single View of Customer's online and offline interactions with their brand. This comprehensive view empowers marketers to deeply understand customers and serve personalized offers and recommendations via their preferred channels and devices. 
How Covid-19 Highlighted CDP Criticality
As we enter the recovery phase, brands should be aware that certain trends like shift to digital engagement are likely to quickly accelerate in the coming days. Re-engaging customers and connecting with them in real-time using personalized content is more important than ever before. We foresee the increased adoption of CDPs, especially by brands and retailers to unify and make sense of the sudden avalanche of data that's being generated due to higher digital use.  
The pandemic has also brought to light some interesting use-cases for CDPs: for instance, quickly determining a segment of customers who would be receptive for location-based offers, subscriptions, buy-online-pickup-in-store, etc.,  notifications for out-of-stock items that are back in stock, or identification of customers who have traveled to an affected area.
Conclusion
From a marketing perspective, CDP and Loyalty Platforms are two sides of the same coin –  they both serve to increase customer engagement and long-term brand loyalty. It simply makes sense to have them closely integrated on a single platform rather than disparate ones. Capillary's Loyalty+ offers a unified CDP-Loyalty stack that is trusted by 400+ brands across the globe to increase sales, revenue, and business growth. Drop us a line at hello@capillarytech.com if you're interested in learning more about our solution.