People Counters


Benefits, Buying Guide & Best Practises
What are people counters
People counters are essentially any type of device that counts the number of people walking in and out of a certain specified area.
While people counters started out as a simple, manual clicker in the hands of a doorman, they have quickly evolved to become complex machines capable of generating large amounts of in-store data around customer behaviour, visitor demographics, store layout, staff performance and marketing effectiveness.
What's the reason for the sudden surge in popularity of people counters?
Well, the credit partly goes to pure play online retailers for showcasing the incredible power of customer behaviour insights in boosting sales and revenue. Whenever there is a drop in the conversion rates of an Ecommerce website, it's fairly easy to find the root cause; thanks to in-depth website analytics and customer data available to online retailers. But brick and mortar stores have it tougher when it comes to pinpointing the reason for drop/spike in sales.
Most of the major offline retailers are now investing in advanced people counters to level the online-offline playing field and access the same level of in-depth data as ecommerce brands to understand and optimize store conversion and sales.
Evolution of People counters
While people counters have been in existence for more than 20 years, they were not successful in providing useful insights due to data inaccuracies and technological limitations. But all of that changed in recent years and the latest people counters boast of more than 95% accuracy and the ability to offer critical insights like product preferences of customers, visitor gender and age and comprehensive footfall analytics .
1970s
-
1990s

Manual clickers

A staff stood at the entrance and clicked on a counting device each time a customer entered the premises.

1990s
-
2000

Pressure sensitive mats

The walk-ins were counted using pressure sensitive sensors placed at the entrance of a shop

2002
-
2004

Infrared beam counters

A simple, infrared beam is placed at the entrance of a store and each time the beam is broken, a count is added.

2005
-
2011

Thermal counters

They used array sensors to detect heat sources

2011
-
2018

Video & Wi-Fi counters

Video counters use complex algorithms and image processing to offer highly accurate footfall analytics and customer demographic data. Wi-Fi people counters use WiFi probe request signals from customer smartphones.

2018
&
Future

Computer Vision & AI-Powered People Counters

The next generation of people counters are expected to leverage advanced computer vision and Artificial Intelligence to offer in-depth customer insights like facial recognition, speech recognition and even the ability to connect previous buying behaviour and browsing data to predict the probability of someone purchasing a specific product.
Want to learn how we built an AI-powered people counter?
Read the Story
How People Counter Benefits Retailers
For many years, Ecommerce brands enjoyed a major advantage over brick and mortar stores - massive amounts of customer data. In many ways, people counters has helped offline retailers to level the playing field by offering in-depth customer data like customer demographics, product preferences, purchase history etc.
1

Boost Sales & Conversion

People counters empower offline retailers to increase their sales and conversion through a combination of several factors like improving store layout using heatmap data, understand customer preferences based on dwell times, personalize product offerings based on customer age and gender and effective staff allocation around store peak hours.
2

Optimize Staffing and Labour Cost

Rising labour costs is a major concern for offline retailers in both developed and emerging markets. People counters help retailers to understand optimize labour costs by offering store conversion ratios and peak hour analytics. Store conversion ratio is a critical metric for retailers as it offers insights into the effectiveness of their sales staff.
3

Offer a Personalized Customer Experience

Today's Connected Customers are used to highly personalized brand interactions in the digital world. On the other hand, offline stores have struggled to personalize customer interactions due to lack of customer data and behaviour insights. People counters can help brick and store retailers to bridge this 'personalization gap' through in-depth customer data like gender, age, product preferences and past purchase behaviour.
4

Measure Marketing Effectiveness

Previously, retailers were left in the lurch with regards to the effectiveness and engagement levels of their marketing campaigns. AI-powered people counters measure the effectiveness of marketing campaigns by monitoring spike in footfalls, dwell times near specific products and overall conversion ratio for a promoted product.
Types of People Counters
While they vary in shape and size, they typically use one of the following technologies :
Thermal Imaging
Thermal imaging systems use heat-sensitive sensors to count visitors using embedded technology. They are highly unreliable due to susceptibility to weather conditions and humidity.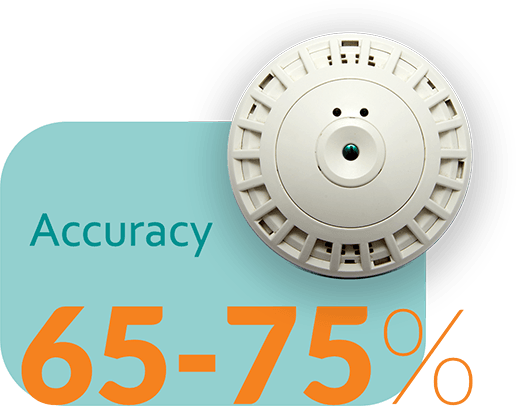 Pros
check_circleMulti-directional counting
check_circleWide coverage
check_circleGood accuracy
Cons
errorAccuracy is affected by weather and humidity
errorLower field of vision compared to video counters
errorVisitors need to be in motion for the sensor to capture the signal
errorLow demographic accuracy
Infrared Beams
These people counters use a horizontal infrared beam directed across an entrance to count visitors whenever the beam is broken. It is widely considered as highly inaccurate due to variations when multiple visitors entering the store, and inability to differentiate entering or exiting the store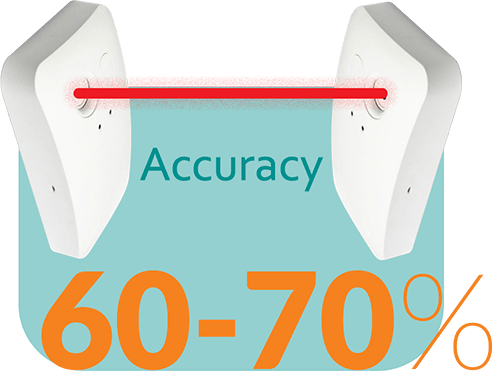 Pros
check_circleFast & Easy Installation
check_circleInexpensive
check_circleGood for smaller establishments
Cons
errorLimited accuracy
errorInability to distinguish between incoming & outgoing visitors
errorGenerates only basic footfall data
2D Video People Counter
These are video-based counters that use a camera to count the number of visitors entering or exiting a store. While more accurate than thermal counters, they have a major flaw - the inability to distinguish between people and objects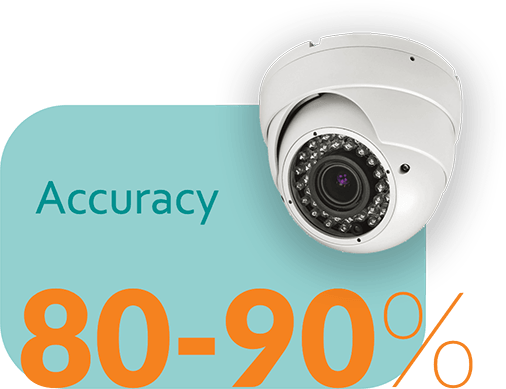 Pros
check_circleEasy setup and installation
check_circleWide coverage area
check_circleReal-time analytics
check_circleRemote video capture
Cons
errorExpensive
errorAccuracy is compromised by shadows and low lighting
errorLack of demographic data
errorInability to differentiate staff, kids and shopping carts
3D Computer Vision People Counter
The latest and most advanced people counters, 3D counters leverage stereoscopic computer vision to offer advanced customer insights like customer age and gender and generate store heatmaps and dwell times. The AI-powered 3D counters are the most accurate of the lot due to their ability to function even under low-light conditions and ability to clearly distinguish between objects and humans.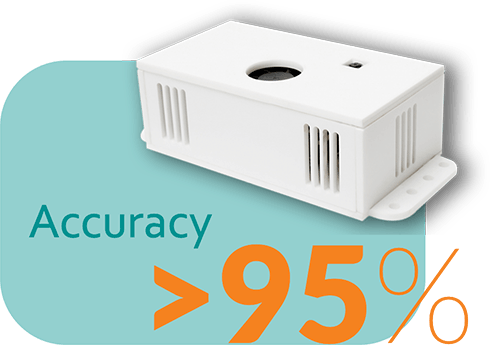 Pros
check_circleHigh accuracy
check_circleAccess to visitor demographic data
check_circleFast & easy setup
check_circleStore heatmap data
check_circleRemote video capture and flash storage
check_circleReal-time analytics
check_circleAbility to distinguish kids, carts and staff
check_circleUnaffected by lighting or weather conditions
Cons
errorExpensive compared to other people counters
Choosing the Right People Counter
The primary criteria you'll need to consider when choosing a people counter is accuracy; once you have shortlisted people counter manufacturers with 95% or greater accuracy, here are the other factors you'll have to consider before making the investment.
Business
Goals
From simple visitor tallying to generating complex customer behaviour data, people counters offer a wide range of capabilities - therefore it's important to finalize a set of business goals before shopping for a device. Do you need a people counter to help you restructure the store layout to maximize conversions? Or do you intend to understand staff performance? Or maybe you want to understand your visitor age and gender to optimize your store inventory. These are some of the questions you will need to answer before choosing a people counter.
Type of
Entrance
Opt for a horizontal infrared people counter only if your establishment has a narrow entrance. Also, if you have swinging doors, make sure they swing out only to one side to prevent them from blocking the infrared beam. Larger stores with a wider entrance should always opt for an overhead thermal or video counter.
Type of
Entrance
Store Size &
Layout
The store size and layout will determine the number of devices required. For large retail stores and malls, it's recommended to go with video counters as they offer wider coverage per device and thereby minimizes the total number of required devices. A thermal or infrared people counter will suffice for smaller format stores.
Easy Integrations
with Existing Systems
Several retailers prefer to integrate people counters with their existing marketing cloud and loyalty program platform to provide additional visitor data and customer analysis. A CRM integration also gives you a 360-degree view of the customer journey - from window shopper to buyer. Try to ensure that the people counter you finally choose supports these integrations.
Easy Integrations with Existing Systems
Dashboard &
Analytics
While the hardware is vital, retailers should also take into consideration the report generation and analytics capabilities of the manufacturer. Unless presented as clear, actionable insights, the data generated by the people counter will be rendered futile. An ideal people counter should offer clear insights around store power hours, store-wise comparison of real-time visitor traffic and also suggest staff targets based on traffic and conversion data.
Installation &
After Sales Support
Advanced people counters are complex devices so it's imperative to choose a vendor that offers fast installation and remote diagnostics capabilities. This will ensure constant uptimes and offer better data accuracy.
Installation &
After Sales Support
Future of People Counters
People counters are expected to play a vital role in the future of retail; most likely as a critical cog that enables seamless sync between emerging retail trends like Augmented Reality, Internet of Things and Omnichannel commerce.
Learn how the world's leading retailers are using VisitorMetrixTM to enhance customer experience and boost sales.
Talk to a Retail Expert